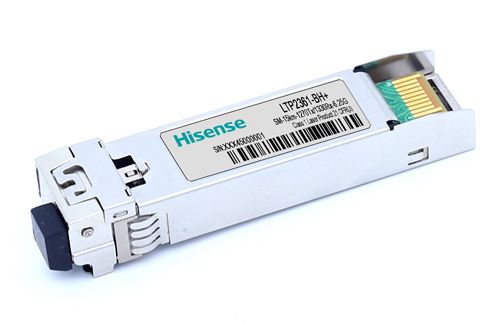 LTP2361 SFP+ Bidirectional Transceiver
6.25Gb/s 15km
The LTP2361 SFP+ transceiver is intended for 15km reach service from2.0Gb/s to 6.25Gb/s 1270nm/1330nm single mode high-speed communications equipment where low-cost, extraordinary performance and reliability are essential.
It consumes low power, operates over the commercial and industrial temperature ranges .
The low jitter and low bit error rate optical assembly features a 1270nm DFB laser transmitter and a PIN/TIA receiver.
MORE INFO
| Product Name | Part Number | Package | Interface | Reach | Temp | Tx Output | Tx Rate | Tx Wavelength | Rx Input | Rx Rate | Rx Wavelength |
| --- | --- | --- | --- | --- | --- | --- | --- | --- | --- | --- | --- |
| 6G BIDI | LTP2361-BH+ | SFP+ | LC | 15km | H | -8.2~0.5dBm | 6.25Gb/s | 1270nm | -14.4dBm | 6.25Gb/s | 1330nm |
• LTE optical repeater application
• High-Speed Storage Area Networks
• High-Speed Data Pipes
• 2x10 SFP+ Package Outline
• Single Fiber, Full Duplex Operation
• LC Optical Interface
• 1270nm CW Mode DFB Optical Transmitter
• 1330nm CW Mode PIN Optical Receiver
• IEEE 802.3ae
• SFP+ MSA
• Compliant with RoHS