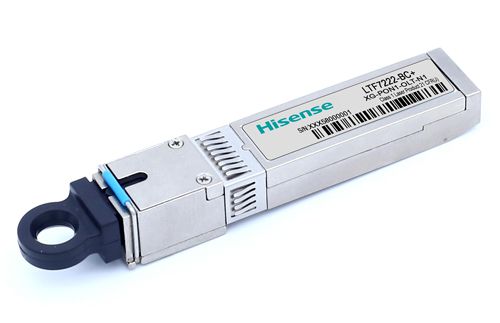 LTF7222 XG-PON1 OLT Transceiver
Asymmetrical 9.953/2.488Gb/s With Digital RSSI
The LTF7222 is an XG-PON1 OLT duplex optical transceiver module designed for low cost point-to-multipoint (P2MP) Fiber to the Home (FTTH), Business or Curb (FTTx) applications. It employs a 1577nm CW mode downlink EML operating at 9.95328Gb/s and a 1270nm APD/TIA burst mode uplink receiver operating at 2.48832Gb/s.
The Burst Mode Receiver Signal Detect (Rx_SD), the Burst Mode Receiver Reset (Rx_RESET), the Transmitter Disable (Tx_DIS) and the Transmitter Fault (Tx_FAULT) signal are LVTTL compatible. It is housed in a rugged die cast SFP+ package and is designed to operate over the commercial temperature range of 0 to 70°C.
The LTF7222 is designed to support up to 32 subscribers over distances of up to 20km.
It is FDA 21CFR1040.10 and IEC 60825-2 Class I laser safety compliant and meets the EEC Directive 2002/95/EC for RoHS compliance.
The Transceiver is ESD safe when tested according to IEC61000-4-2. The device complies with (US) FCC Class B, (Europe) CE Class B.
REQUEST
| Product Name | Part Number | Package | Interface | Reach | Temp | Tx Output | Tx Rate | Tx Wavelength | Rx Input | Rx Rate | Rx Wavelength |
| --- | --- | --- | --- | --- | --- | --- | --- | --- | --- | --- | --- |
| XGPON OLT | LTF7222-BC+ | SFP+ | SC | 20km | C | 2~6dBm | 9.953Gb/s | 1577nm | -27.5dBm | 2.488Gb/s | 1270nm |
• XG-PON1 Passive Opitacal Access Network
• Fiber to the Home
• Fiber to the Building
• Fiber to the Curb
• Comlliant with ITU-T G.987.2
• XFP
• SC Duplex optical inerface
• 1596.34nm,1597.19nm,1598.04nm,1598.89nm 9.953Gbps downstream with EML+SOA
1532~1540nm 2.488Gbps upstream with APD
• Up to 20km link on SMF single-mode fiber
• Power Consumption<3.5W