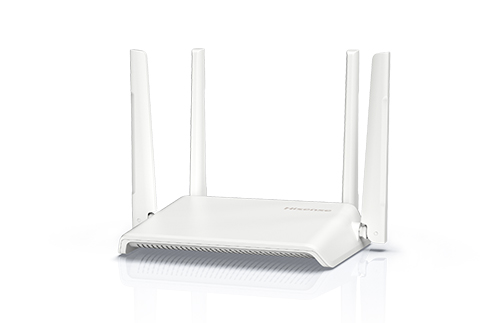 WIFI6 AX1800 ROUTER
HBR6001M
HBR6001M WiFi6 Router HISENSE WiFi6 AX1800 Smart Router,Supprt Wireless 1800Mbps,faster speeds,more connected devices,OFDMA and 4-streams let your talk to more devices simultaneously,letting you connect all your straming,gaming,and smart home devices.
ADD TO CART
Dual Core 900MHz MIPS ensures your experience is smooth.
Simultaneously communicate more data to more devices using revolutionary OFDMA technology
Minimize lag For all devices and applications,experience ultra-smooth entertainment whether you are streaming 4K videos, gaming online, or even video chatting with up to 75% reduced lag.
Increased battery life for devices,target wake time technology reduces your devices Power consumption to extend their battery life.
Advanced security,Protect your network and connected devices with a free lifetim
2.4GHz 5GHz Dual_Band Gigabit Rate Smart Home Office internet Router .
Easy setup and management,easy connect.
Backwards Compatible, is compatible with all WiFi-enabled devices and supports new phones,laptops and other devices .
Support 4 auto-sensing Gigabit ports for WAN and/or LAN connectivity